At ExploraLab come and experience a workshop to do science while tinkering ! Whether you are young or old, interested in music, programming or technological challenges, there is bound to be something to whet your curiosity ! Take a look at our programme of activities, register, all that's left to do is enjoy a joyful and captivating moment with a guide.
At ExploraParc, come and have fun with the games and facilities which are free to access. You will be able to lose yourself in time in the Carboniferous Garden, exercise your ear in the heart of the Sound Zone and create a sound and light show with the swings of the Electric Picnic. The park is free and full of discoveries.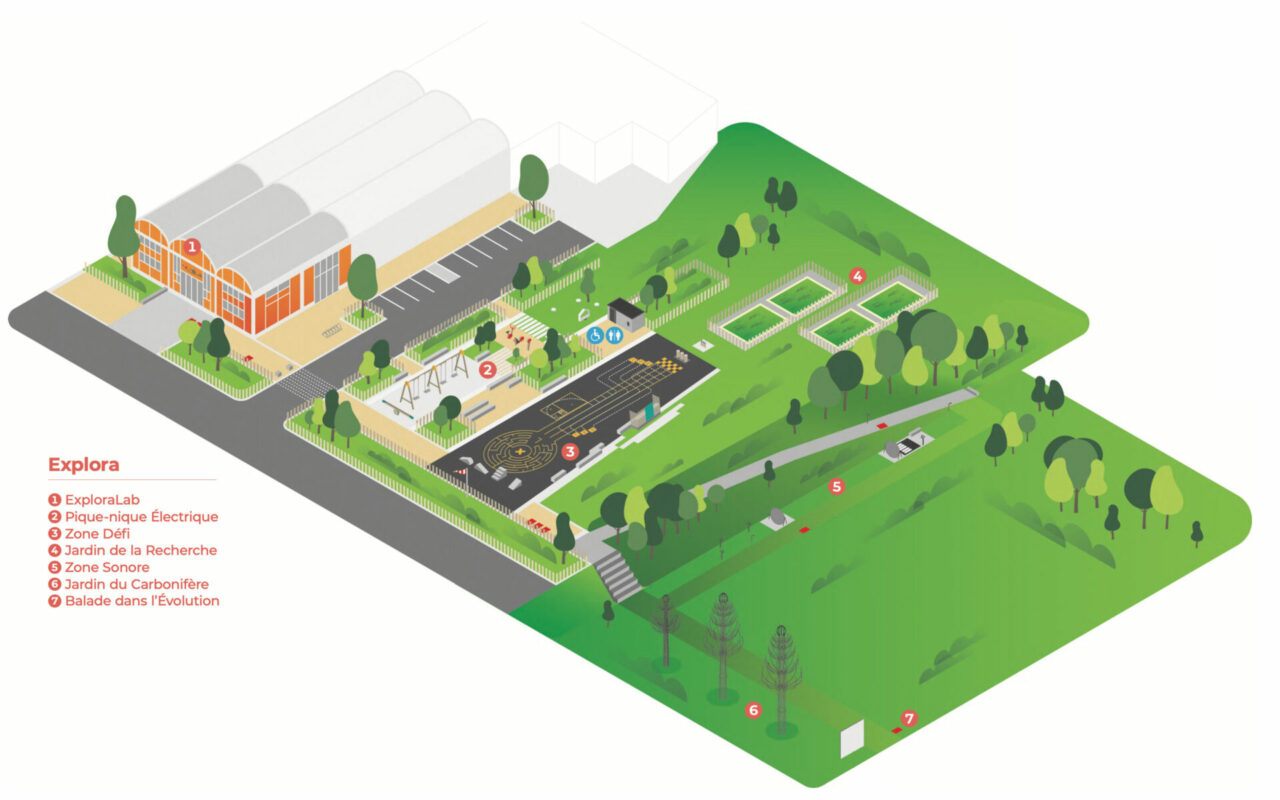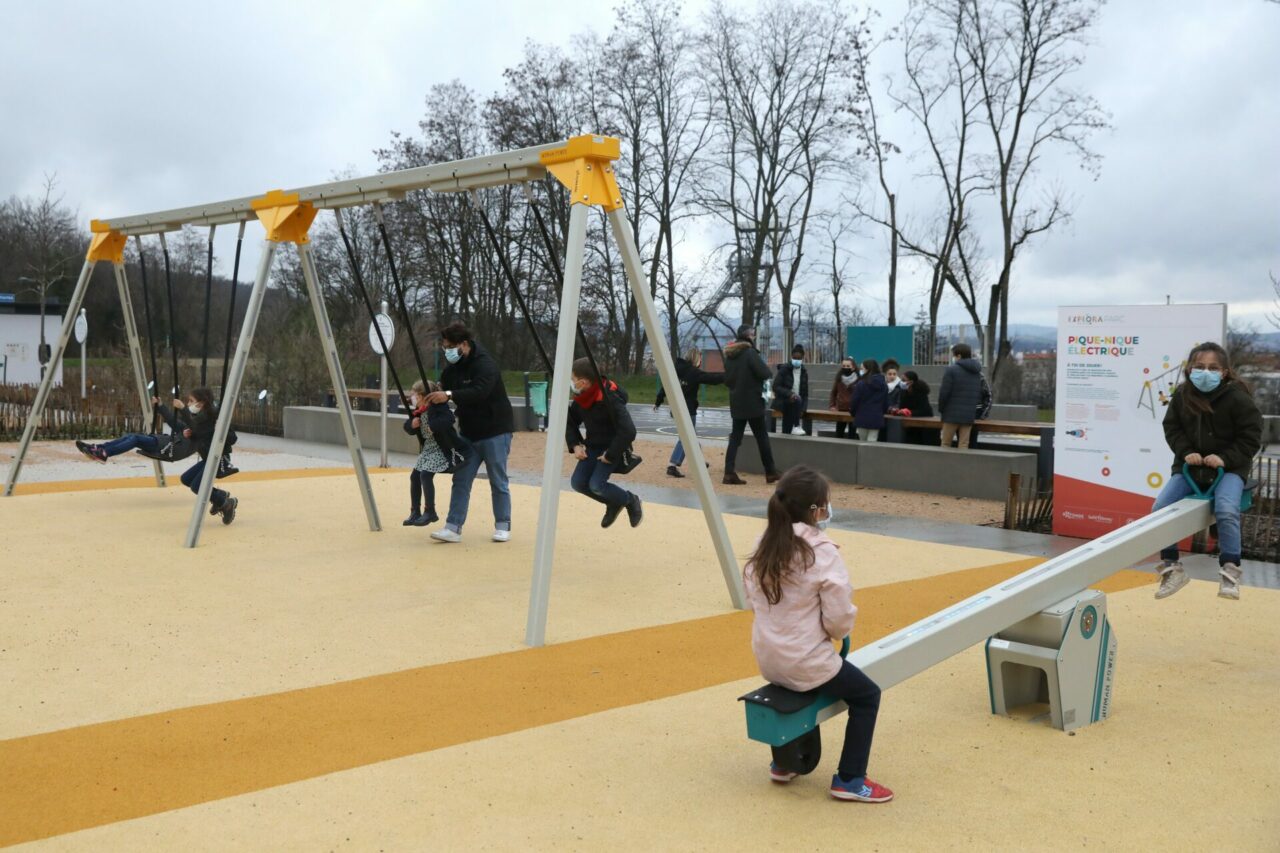 ② The « Pique-Nique Electrique » is a strong hallmark of Explora because of its atypical, fun and educational facilities. Positioned near the ExploraLab, it allows the public to immerse themselves in the theme of energy thanks to several interactive modules where movements activate an electricity generator. Swings, Lumijump, bikes and seesaws create a sound and light atmosphere on the site. The public is thus invited to cooperate and exchange to create together a unique sensory atmosphere.
③ The « Zone Defi » gives scope to the public's ideas and puts them into action in an environment that encourages creativity and ambition. A platform is set up with springboards, markings on the ground, vertical plans in order to be able to test the constructions made in the ExploraLab without space constraints. Here, cars jump over obstacles, parachutes take to the skies, dragsters take off as far as possible, rockets are launched with a bang !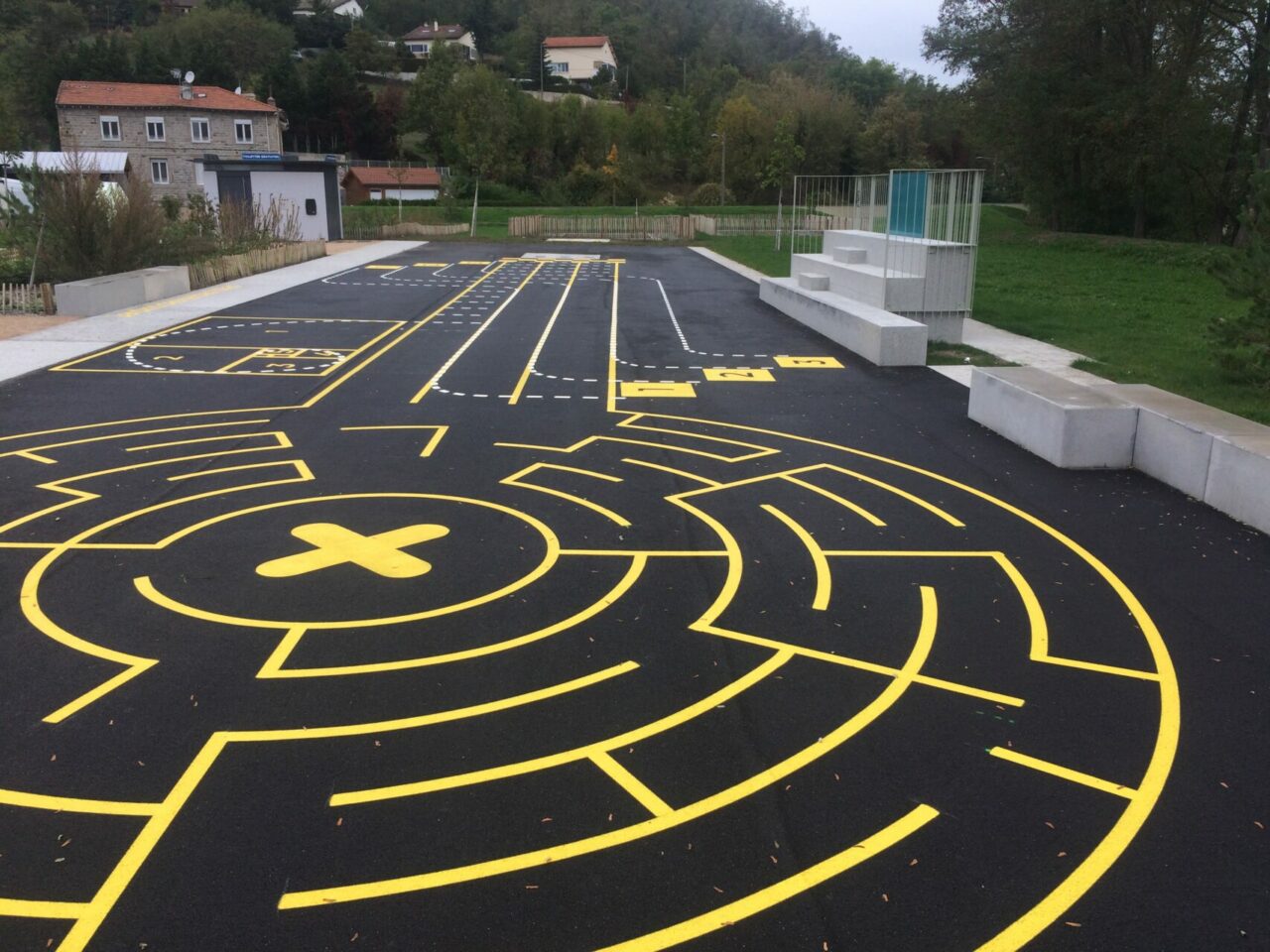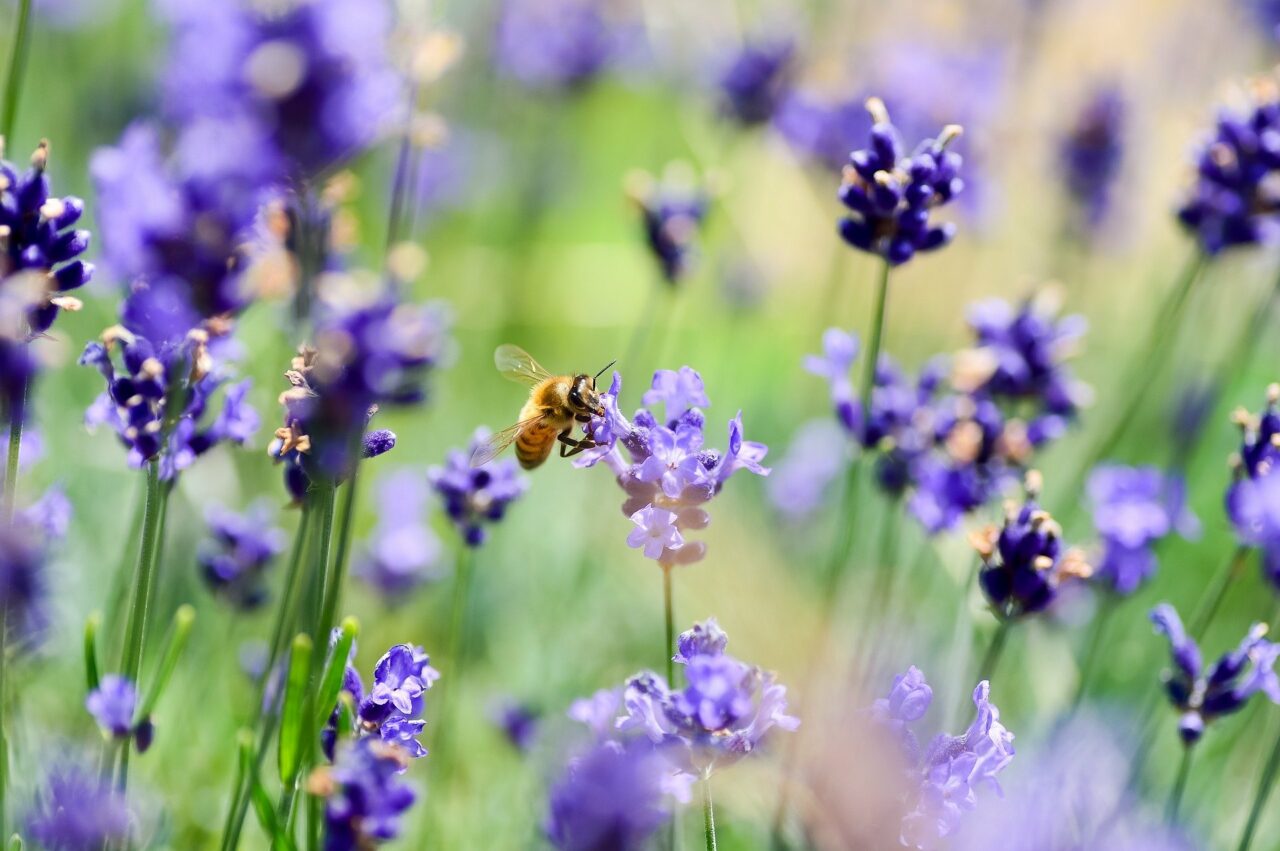 ④ The « Jardin de la Recherche » is an open space, made up of four areas in which research teams from Jean Monnet University, IUT Saint-Étienne and Mines Saint-Étienne are carrying out studies related to plants.
This garden is both a place for general public walks and a site designed and imagined for research. Researchers and students use the quadrats to study the role of plants in soil remediation and the use of different plants by pollinating insects.
⑤ The « Zone Sonore » thinks big and resonates within the park thanks to surprising installations. Two giant satellite dishes face to face, instruments at human height, a forest of voice tubes, a piano on the ground… all to exercise our listening skills and have fun with sound waves. These installations form a space which encourages passers-by to get involved with the park and brings together people of all ages and from all backgrounds around games based on sounds, voices and music.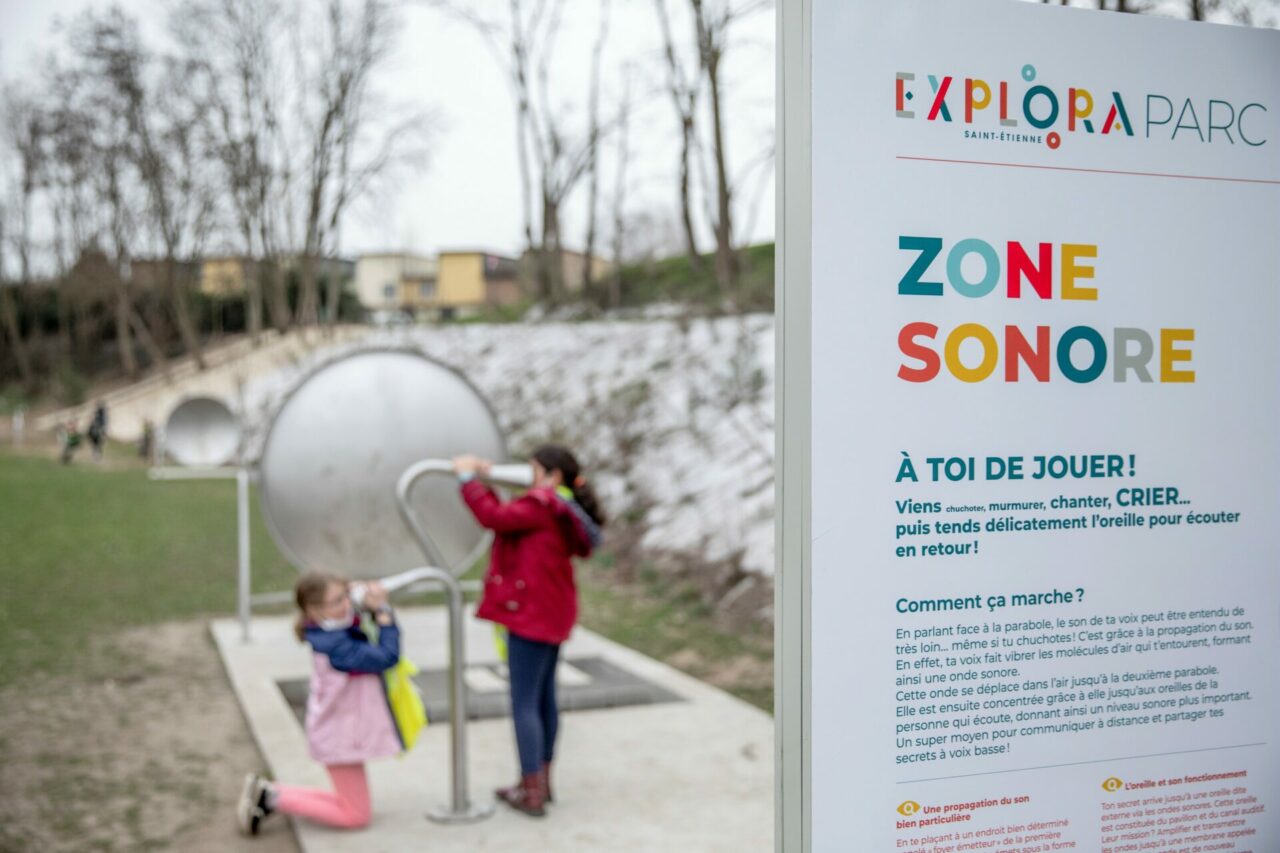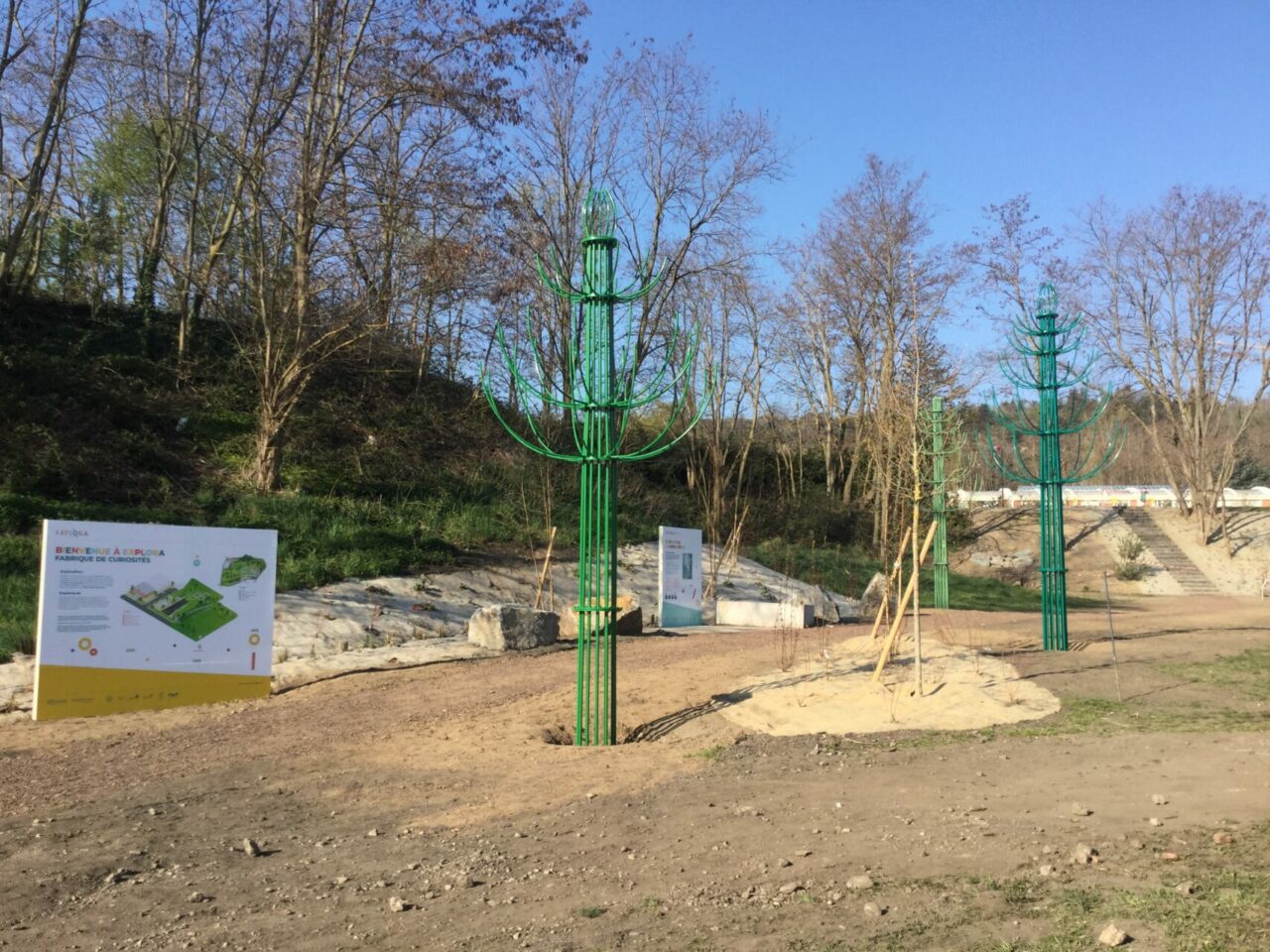 ⑥ The « Jardin du Carbonifère » represents a sample the history of plants, on the trail of the lost Saint-Etienne landscape. Ferns, horsetails, conifers, current close relatives of the Carboniferous flora 300 million years ago, form a garden that echoes the fossil flora whose traces have been found in the subsoil of the region. This station is built around high plant sculptures inspired by horsetail, a form of the Stephanian. It is an evocation of the grandeur of the flora of the Carboniferous period, which invites us to consider the impact of the passage of time and the evolution of our environment with humility and reflection.
⑦ The « Balade dans l'Évolution » allows the public to physically experience the evolution of living things and the Earth in different geological ages. It also helps lay the groundwork for the development of techniques from the creation of the first tools 2.7 million years ago to the present day.
Take a walk and discover the 29 colored tiles scattered around ExploraParc!
By simulating 1 million years = 1 meter, it is a wonderful tool for interaction and representation. In order to be able to humbly consider our place as human beings in this evolution.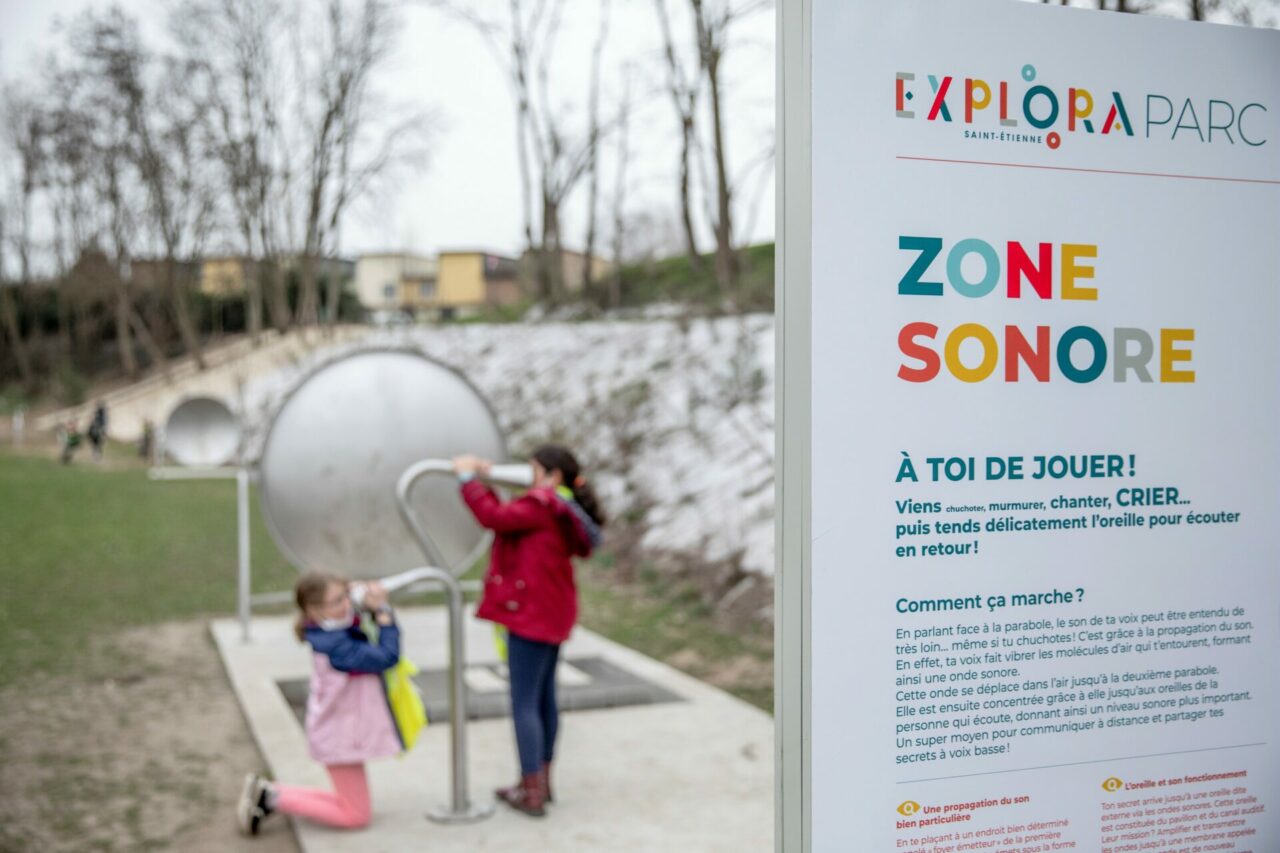 Explora is particularly inspired by the Maker movement, which has been developing in the United States since the 2000s. This culture of DIY (Do It Yourself) encourages people to rediscover the pleasure of imagining, creating and manufacturing oneself, using both artisanal techniques and new technologies. Importance is given to sharing and collaboration, open source culture and exchanges between participants.
Explora is at the frontier of Science, Technology, Engineering, Art and Design. In this sense, the culture of the place is similar to STEAM (Science, Technology, Engineering, Art and Mathematics) educational practices, which seek to develop critical thinking and so-called soft-skills.
Explora is the place to imagine, craft and play !
Here, we MAKE science !
Explora is a scientific and cultural establishment of the City of Saint-Étienne, managed by La Rotonde, Center for Scientific, Technical and Industrial Culture of École Nationale Supérieure des Mines de Saint-Étienne.
For more than 20 years, La Rotonde has taken you on a journey of scientific adventures. It now has two locations : La Soucoupe and Explora, and also offers numerous activities off-site and digitally.
Here is a part of La Rotonde team that you can find at Explora !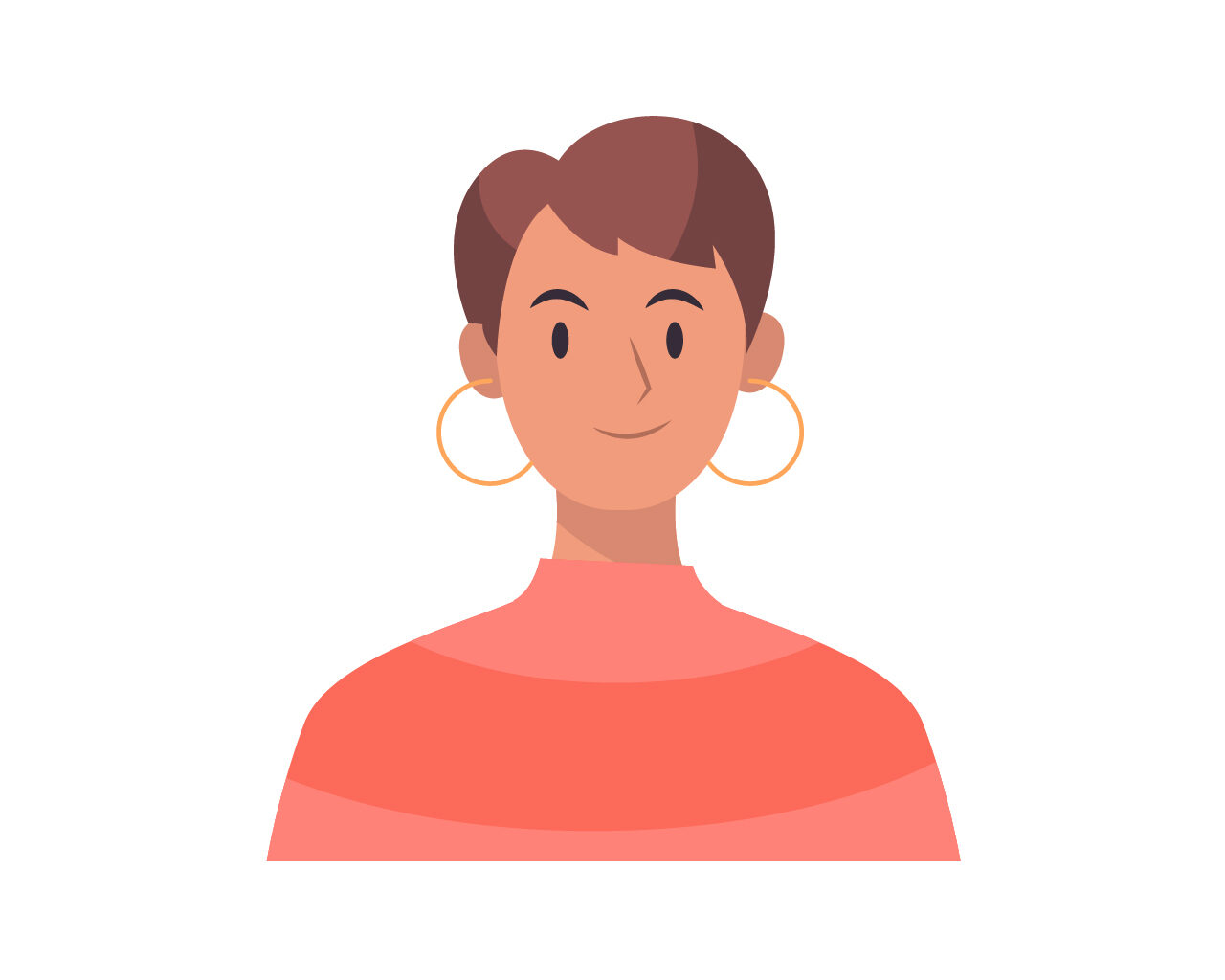 Project manager and scientific mediator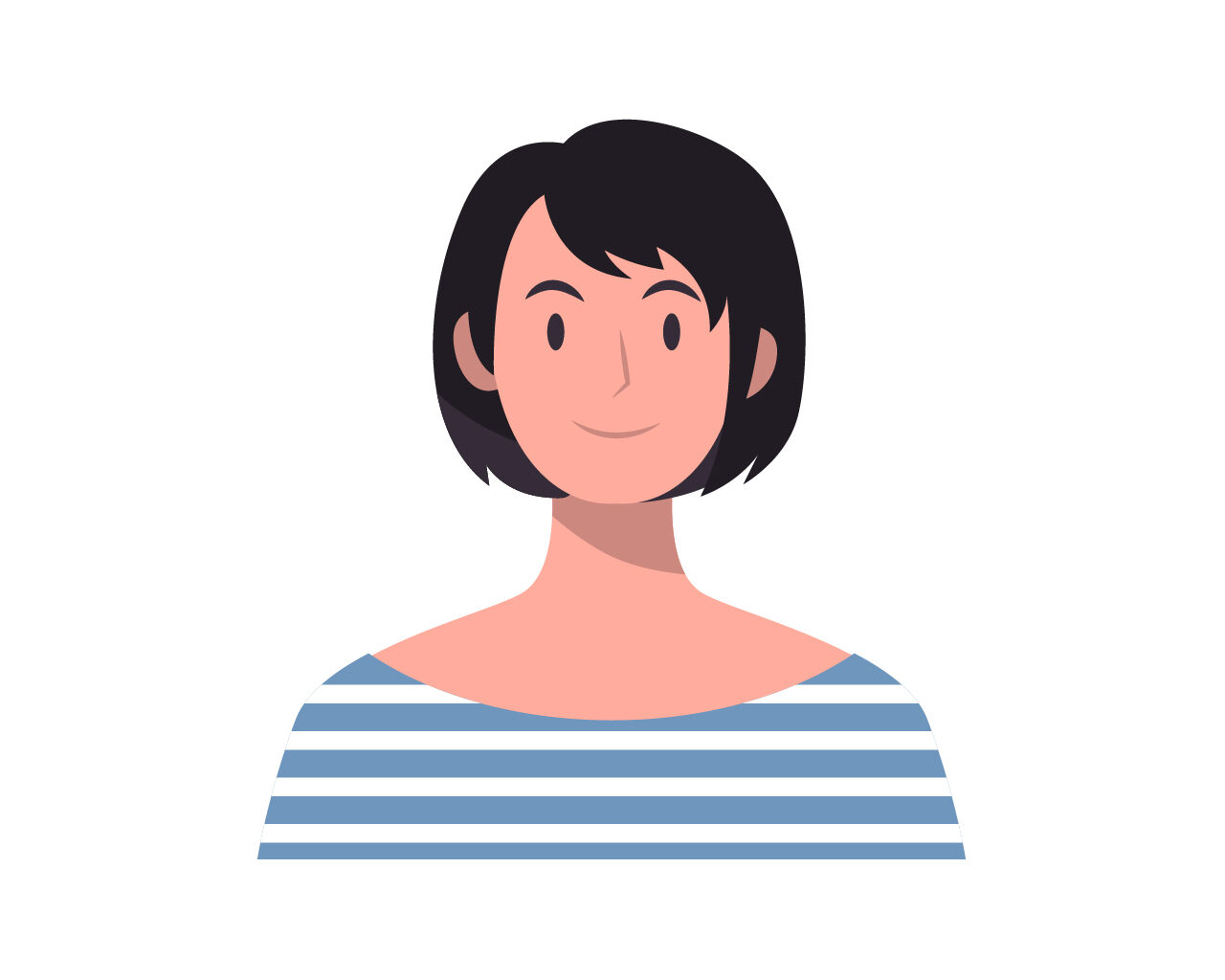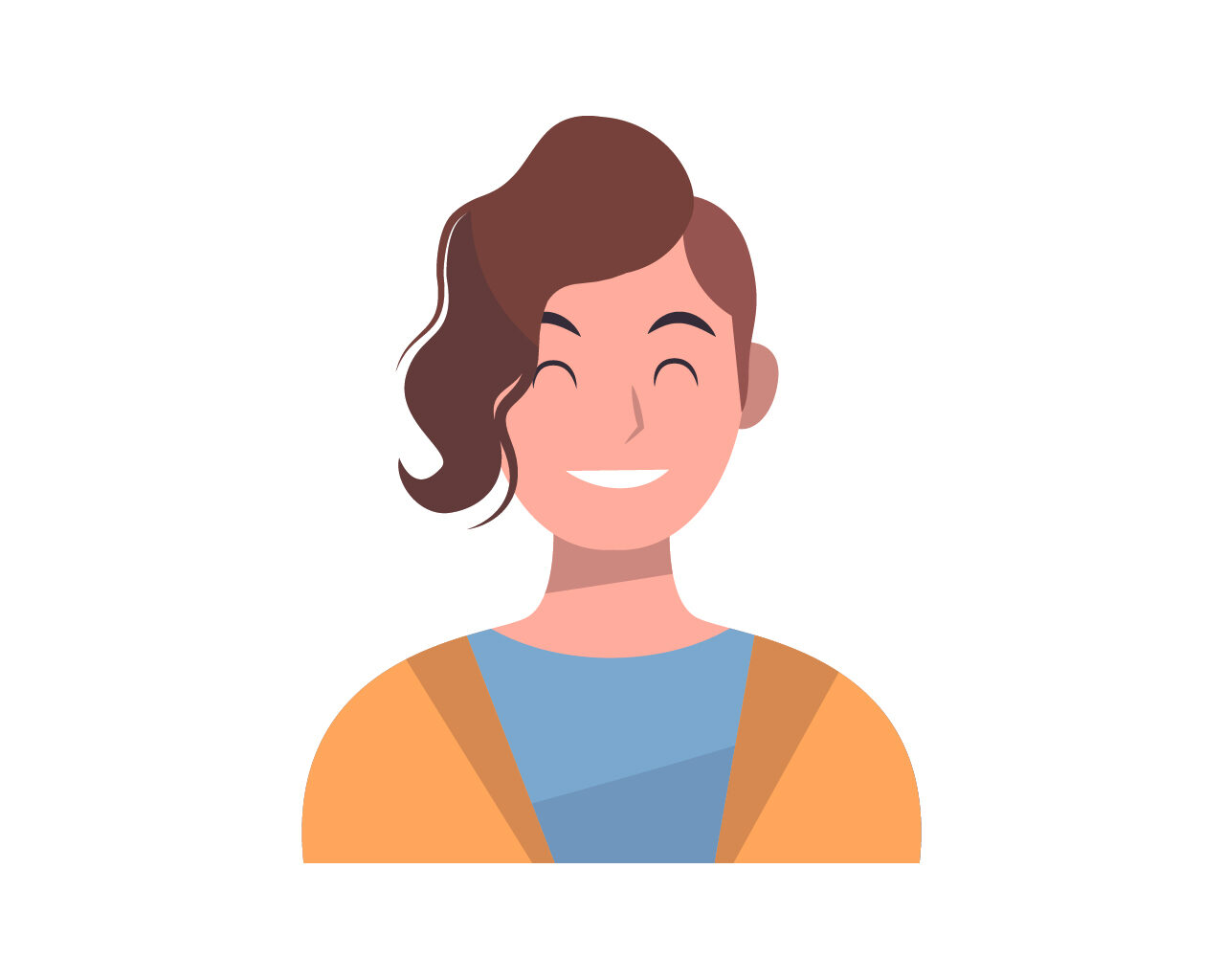 Project manager and scientific mediator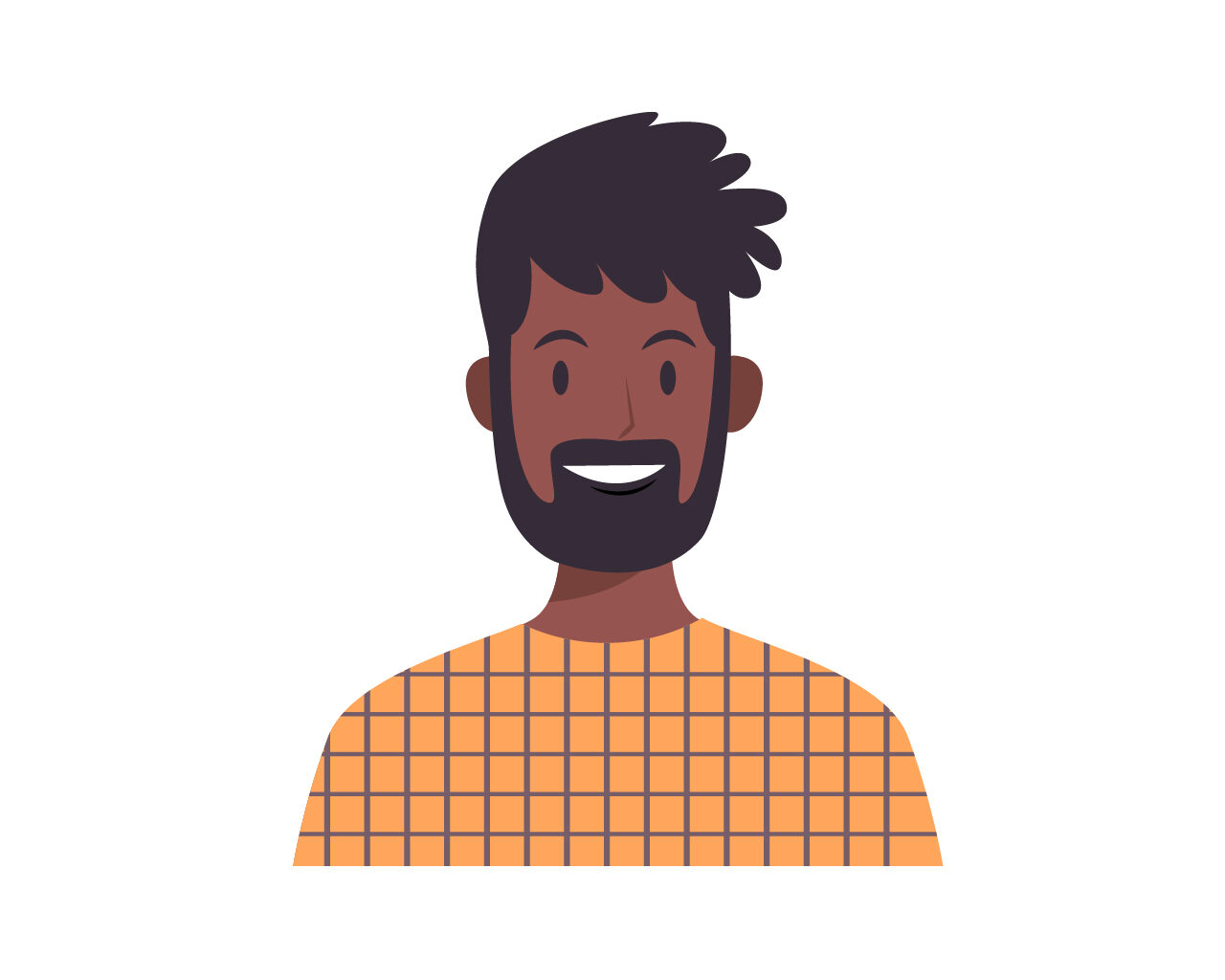 Project manager and scientific mediator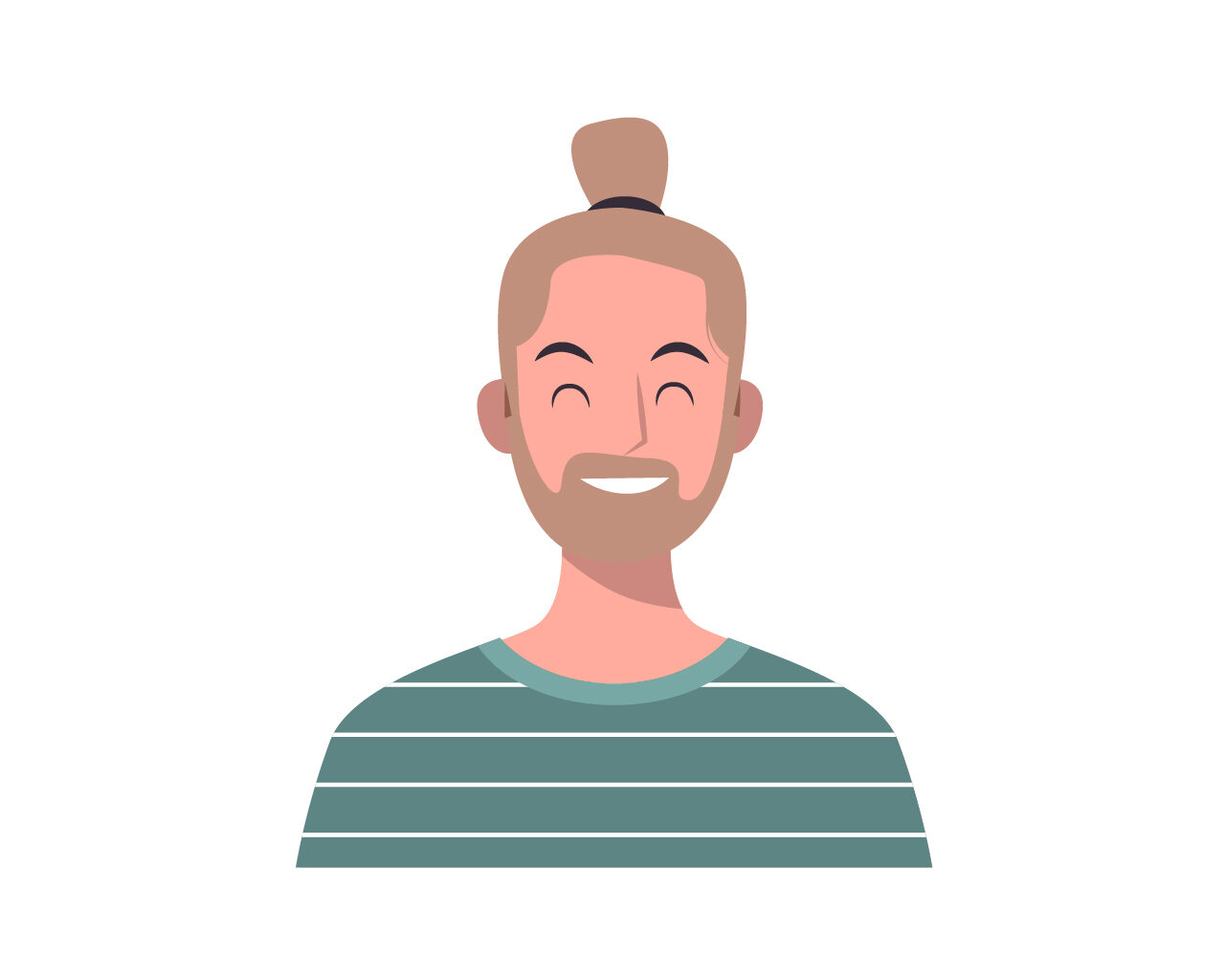 Project manager and scientific mediator
ExploraParc is free and open access.
ExploraLab offers workshops on registration, intended for the general public, school and leisure groups, from 3 years old.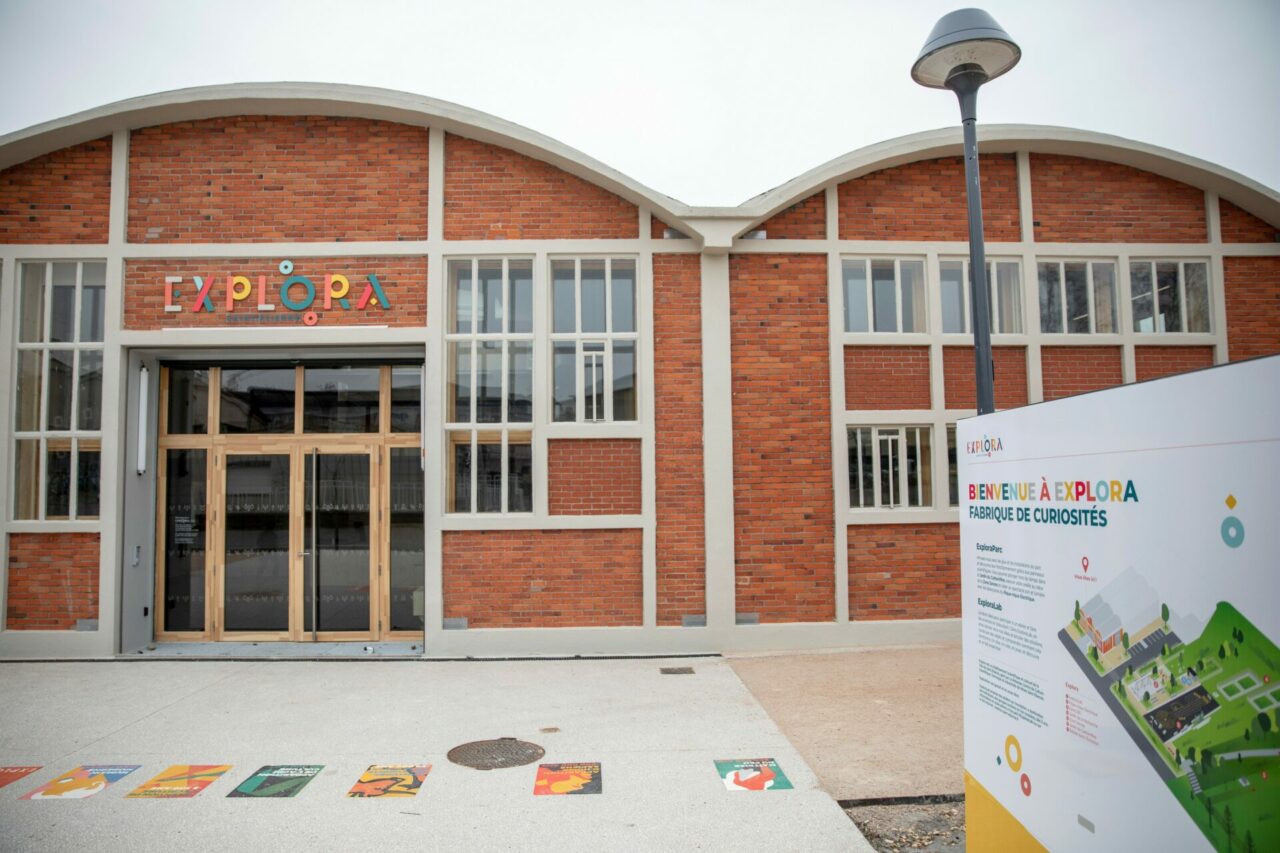 Tuesday-Saturday : 09:00-12:00 / 14:00-17:30
Monday and Sunday : closed